Pet-Friendly Resort in Newport
Newport, Rhode island is renowned for its stunning coastal beauty and historic charm, but did you know that Newport is also incredibly dog-friendly?
When you travel to Newport, there's no need to leave your four-legged friend at home! Welcome to the pet-friendly paradise of Newport, where a selection of hotels, restaurants, and shops are dedicated to ensuring your pets enjoy a vacation as much as you do.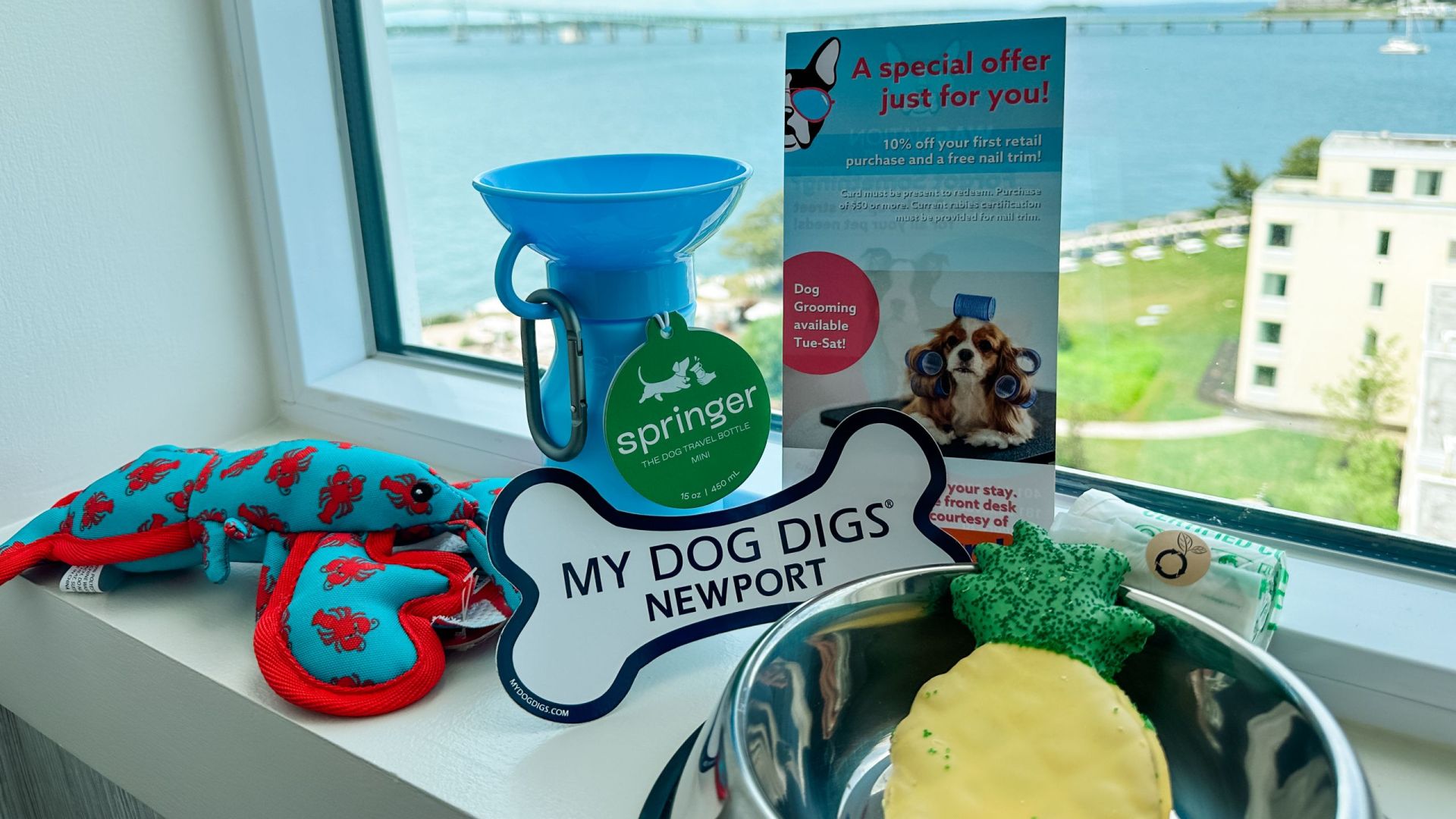 A Warm Welcome
Traveling with your pets can be an absolute joy, but it's important to have accommodations that understand your needs. Newport Harbor Island Resort offers a warm and welcoming atmosphere for both you and your pet. Upon arrival, your pet will be greeted with a friendly smile and a treat, ensuring they feel like a valued guest, too.
Home Away From Home
When choosing a pet-friendly hotel in Newport, you don't have to sacrifice comfort and luxury. Newport Harbor Island Resort offers spacious, well-appointed rooms where both you and your pet can relax and rejuvenate. A plush bed and stainless-steel bowls will be placed in your room prior to your arrival, ready for your pet to enjoy!
Pet Amenities
Our pet-friendly hotel goes the extra mile to make your stay comfortable for both you and your pet. When you book our VIP (Very Important Pups) Package, you'll receive a range of amenities to make your pet feel at home, from toys and treats to souvenirs and travel necessities. Our friends at Wag Nation Pet Store are also conveniently located in downtown Newport and offer a variety of food, toys, and more, for treating your pet during your stay!
Exploring Newport with Your Pet
Newport's pet-friendly atmosphere extends beyond your hotel room. Many local restaurants, cafes, and shops welcome friendly dogs, so you can explore downtown together. Some restaurants offer outdoor seating, allowing you to savor delicious local cuisine with your pet by your side. Newport also boasts numerous dog-friendly parks and trails, perfect for seaside strolls and exercise. Take a leisurely stroll along Bowen's Wharf or the Cliff Walk, or head to Brenton Point State Park for breathtaking views of the Atlantic Ocean.
Visiting Newport, Rhode island is a magical experience, and it's made even more special when you can share it with your furry friends. Newport Harbor Island Resort offers a warm welcome, comfortable accommodations, and a range of amenities to make your stay enjoyable. With so many pet-friendly activities to enjoy in Newport, you'll create lasting memories for the whole family.
Pack your bags and bring your pets along for a memorable vacation in our charming coastal town!